How to Know It's Time to Leave Your Job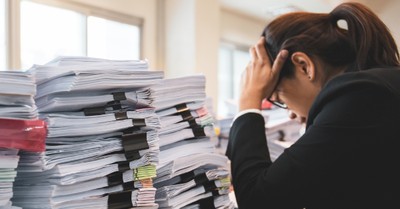 By Alisha Headley, Crosswalk.com
Just because we might not like our job doesn't mean it's necessarily time to leave our job. Our society tells us that if you're not happy with something in your life, keep chasing after the next best thing.
We often do this in the workplace. We might not like our boss, the company, our co-workers, or we don't like what we are doing as our profession. We see others happy in their jobs and become discontent in our own. Or perhaps, we are in a field or industry where our heart is not passionate about what we are doing. We feel unfulfilled for various reasons, and therefore we are now contemplating leaving our job. Maybe we are perfectly happy at our job, but we have this inner tug on our hearts to do something else, and we can't seem to shake it.
All these reasons are valid reasons to consider leaving our job, but let's dive into some Biblical viewpoints to help us with a big decision. While there may not be a clear answer for everyone, here are five things to consider in helping you decide if it's time to leave your job.
Has the Lord told you to leave?
Sounds simple, right? I have made many choices in my life that were not with God's hand on them. I have also made many choices in my life, where God led me the entire way as I walked side by side with Him leading the way first.
Often, we make decisions on our own, in our own wisdom. We may pursue a job and career in areas where we find the most joy and feel we are the most talented. But what if it's not what the Lord told us to do? What if we are in the process of leaving our job while He's in the process of working out other details, preparing and laying out a bigger part of our purpose?
It's so crucial we walk closely with the Lord. We must depend on Him daily and pray for His guidance. We must spend time in his Word where He speaks directly to our hearts with His "living and active Word, that is sharper than any two-edged sword, piercing through our souls…" (Hebrews 4:12). Scripture refers to "the Word being a lamp to guide our feet and light our path." (Psalm 119:105)
Just as you and I may go to the movies and walk through a dark movie theater to find our seat, each step has a dim light to light our path to our seat. In the same way, the Word of God lights each step on our path in this dark world. And the way to know if you should leave your job is to stay so close to Him that He leads you through each step. We are to remain close enough to hear Him telling us if we are to leave.
He may speak through His Word, through other people, through worship, through His small still voice, and other ways. Let's just make sure we are not so distracted by the buffet line of distractions in today's world that we can't hear Him speaking to us regarding whether or not we should leave our job. He says to "ask for wisdom, and he will gladly give it." (James 1:5) So let's ask Him for wisdom on whether we should leave our job and remove distractions while we listen for His next light, His next step, to lead the way.
The job you have may be the job God wants you at.
Sometimes we have jobs in certain seasons of our life, where we desperately pray for God to get us out. But what if the job you are in is exactly where God wants you right now?
We see all throughout the Bible stories of heroes we know that had jobs that didn't seem to make sense at the time. David was first a shepherd boy before he ever became king of Israel. He tended a field and was overlooked by his very own family as someone fit for a crown (I Samuel 16). He killed a bear and lion before he killed the giant Goliath. He had multiple jobs and responsibilities before he became king. He didn't become king until nearly 15 years after God told him he would become king.
David embraced each job he was given, for each job gave him the skill set he needed to one day rule Israel. He was patient and didn't try to manipulate his way through or network to the kingdom role. He waited on God's timing.
David knew that God's timing was the perfect timing. Maybe you think in your mind, it makes the perfect sense to leave your job right now for various valid reasons. But remember, "the "foolishness of God is wiser than men, and the weakness of God is stronger than men." (1 Corinthians 1:25). While God has gifted us with a beautiful mind and offers us wisdom, even our most brilliant idea is nothing compared to God's greatest weakness (supposing He were ever to have one). So, what might seem like the most logical, most obvious step is to leave your job, don't do it unless God tells you to. Embrace the season you are in and take whatever God is teaching you now to heart, as you may need it at the next job that is on the horizon. God knows what is best. And He is never late, and never early; His timing is perfect.
Is your job your passion?
There is a difference between a job and a passion. A job is a place you go from 9-5 pm where you clock in and out to pay for your everyday bills. A passion is that thing that gnaws deeply at your heart. A desire. Something you think about often and that perhaps it's something you have felt a call to or some sort of draw to.
God may have you exactly where He wants you at the job you are in, and He is preparing you for what's next. So, I certainly don't want you to get ahead of yourself. But perhaps the Holy Spirit, which is that tug in your heart, is calling you to something different, and that is why you are reading this article, perhaps wondering if it's time to leave your job. Maybe you are perfectly happy at your job, but you have a tug pulling your desire elsewhere. Perhaps the idea you want to do sounds too crazy, so you ignore it.
I had a successful career in the financial industry for over a decade. But ever since I could remember, I had this crazy idea that I would one day work with women and write. It sounded crazy at the time when I put all my time and effort into my financial career and climbed that ladder to exactly where I wanted to be. I began praying about it and realizing that God wanted me to pursue ministry. However, hear me when I say this - not everyone is called to ministry. Not everyone is called to leave their corporate careers. Not everyone is called to the mission field. But if you have a passion burning inside your heart that you can't seem to shake, I encourage you to take it the Lord and then "watch and see what He can do." (I Samuel 12:16) For He can "do exceedingly abundantly more above all that we ask or think, according to His power in us." (Ephesians 3:20) Did you catch that? In His power in us. Not in our own power can we live out the passion burning inside of us.
So, be encouraged. If you have a passion unlike your current job, it's ok. If it's crazy, it's also ok. Sometimes God calls His followers to do the crazy. He asked Noah to build an ark when it had never rained before. (Genesis 6) He told Abraham and Sarah to have a child past childbearing years in their nineties. (Genesis 21) He told a virgin Mary that she would carry the Savior of the world and give birth to Him. (Luke 1) Don't ignore that tug at your heart. Pray about it. Lean into it and have faith in the Lord that He will bring it to fruition.
It's okay to leave your job even if you don't have all the details.
Wouldn't it be nice if God spoke to us clearly through written clouds in the sky? Although, what is faith if we can see so clearly? For faith is "the substance of things hoped for, the evidence of things not seen." (Hebrew 11:1) Part of faith is moving in the unknown of what we cannot see.
Let's examine some of those with their names written in what we Christians call the "hall of faith" in Hebrews 11. Genesis 12:1 says that the Lord told Abraham to "get out of your country, from your family, and from your father's house, to a land that I will show you." Abraham wasn't given all the details, but He was given direction. He was told to leave but didn't know the future. He had to depend on his faith in God.
Perhaps, you are contemplating taking the job with the job offer your just received. Maybe you know God is prompting you to leave the job you are in and pursue your passion He's called you to, but you don't know any more details past that. The space between where you are and what God calls you to is called faith. It's ok to leave if your job if you feel prompted without full assurance of the future. It's ok not to know the details. We can rest assured because the future lies within God's hands. Our job is obedience to the Lord asking us to leave, and His job is the outcome.
God may call us in a particular direction, which can be in a new industry, a new passion, a new job in a new state, and He often won't give us all the details. At this point, we have faith to trust Him at His word, just as Abraham did. Abraham didn't hesitate. Scripture says he then took His wife, fathering his family and possessions, and departed as the Lord asked Him to. He did what He was asked, and the Lord was with Him the entire journey.
If you don't know what to do, don't do anything.
What if the Lord is not speaking on what to do next or speaking at all about leaving our job? We are not sure if we should leave or stay or what He is telling us to do. If we don't know what to do, wait until God tells us. Let Him work in whatever He is working on, and when the time comes for Him to speak on your next step and next move, He will. Keep seeking Him first (Matthew 6:33), keep abiding in Him (John 15:4), and keep praying to Him regarding your job (I Thessalonians 5:17). He is always working, He's already gone before us (Deuteronomy 31:8), and He hears every prayer. (1 John 5:15)
So, while there is not an easy answer to knowing if it's time to leave your job, we can stand confidently in knowing that the Lord speaks. The more we walk alongside Him in prayer and through His Word, the clearer directives and direction we will get. He will reveal more details little by little, and we can step out in faith when the time is right to leave our job.
Photo credit: ©GettyImages/Bignai
Alisha Headley is a writer + speaker who has a desire to meet the everyday woman in her everyday life with biblical truth. Stepping into her true calling, she left the corporate world behind as a former-financial VP to love on her family as a stay-at-home wifey + dog mama, while also being able to pursue her passion as a writer. Healing from a chapter of life consumed with lies she once believed about herself, she is inspired to point women to Christ to experience the freedom + power to overcome those lies with the truth written in God's word. In her free time, Alisha enjoys road trips around the country, working out so she can eat her favorite foods, and creatively styling her outfits with a craft for fashion. Alisha is a proud wifey and dog mama living in Scottsdale, Arizona.
You can follow her blog by visiting her website or connect with her on facebook + instagram.
Related podcast:
The views and opinions expressed in this podcast are those of the speakers and do not necessarily reflect the views or positions of Salem Web Network and Salem Media Group.
Related video: